1" Unique ROUGH UNCUT NATURAL AMETHYST Crystal STONES Wicca Pagan GOTHIUIC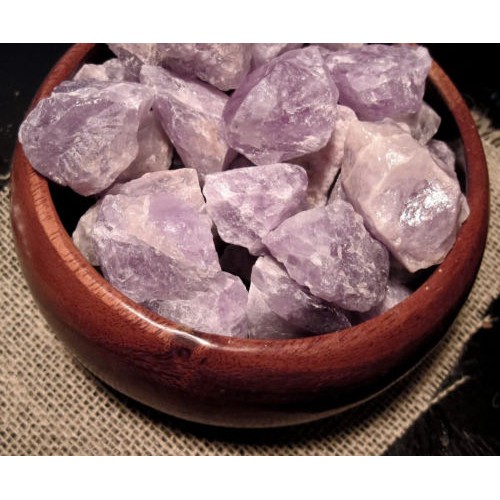 Product Description - - -
A VERY UNIQUE STYLE AND GORGEOUS PIECE!!!!

ROUGH UnCUT NATURAL AMETHYST Crystal SToNES
Vibrant soothing energy in these natural Amethyst shards! You will fall in love with it!! These gorgeous shards range in size, shape and color, as you will receive ONE piece at random. (Longest length of the stone you will receive is listed in title!) Your piece will be selected from the lot photographed which contains, clear deep purple hues, cloudy lighter lilac hues, and clear to white banding, most have a nice mix of the varied colorations.


THANKS FOR LOOKING! :)
Payment Policy - - -
We accept payments through PayPal. Items will process between 1-5 business days after cleared payment.
Shipping Policy - - -
Everything in this shop is VERY carefully packaged for the safe delivery!
*****IF YOU ARE ORDERING FOR AN EVENT OR HOLIDAY*****
* Please order EARLY to allow ample time for handling, carrier transit, potential weather delays, carrier delivery and (for international orders) 2-3 weeks time for customs clearance.
* Our handling time ranges between 1-5 business days for items that are >not< custom or made to order. And up to 3-7 business days for most jewelry custom and made to order items.
* Shipping damages must be claimed within 24 hours of receiving your order.
* Please note: WE ARE NOT responsible for shipment delays due to weather or customs clearance for international orders, once the item is in the hands of the carrier I can not alter the speed of its delivery.
:::PLEASE SEND A MESSAGE IF YOU ARE UNCERTAIN OF ANYTHING IN THIS LISTING:::
Returns Policy - - -
:::PLEASE NOTE::: UNAUTHORIZED RETURNS WILL BE REFUSED!:::
* If something arrived damaged please notify us immediately.
* Shipping damages must be claimed within 24 hours of receiving your order.
* Damages may occur during shipment, which is 100% out of our control, but we like to attempt to make it right in a fair and timely manner for our customers.
We offer a free 30 day repair warranty for all items that are hand-made, custom, or made to order in case of any problems that may arise due to shipping damages, exchanges may be offered for any item that arrived with such damages or manufacturing defects.
* If exchanges in certain circumstances are offered, buyers pays for return postage.
* Refunds will NOT be offered for ANY hand-made, custom, and made to order items.
We will NOT accept returns for items that have been used or show signs of abuse.
DAMAGES MADE BY THE BUYER DUE TO NEGLIGENT CARE WILL NOT BE ACCEPTED FOR RETURN OR EXCHANGE.
:::PLEASE NOTE:::
We will not pay return shipping charges for ANY item being sold unless WE offer a return shipping label.
* There will not be any reimbursements on return shipping charges, as we will be paying out of pocket to ship the replacement exchange item back to you.
1" Unique ROUGH UnCUT NATURAL AMETHYST Crystal SToNES Wicca Pagan GOTHIiC
Product Code: amcry1
Availability: 3